I met Robin in cyberspace, on LinkedIn in the mixed media/collage group. She's a peach and is nice enough to share these works with us. The links beneath the images take you to her Etsy shop.
Her first piece, shown in two photos below, is dimensional and tactile.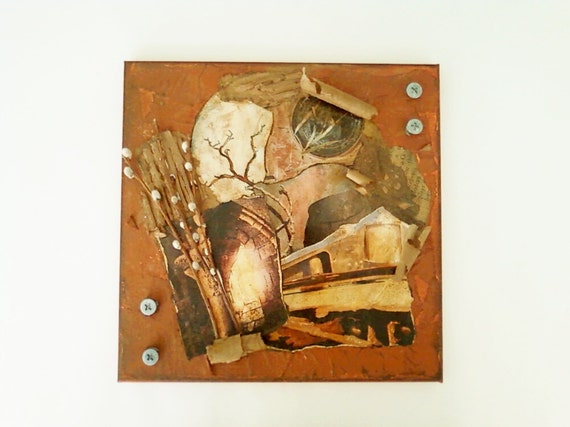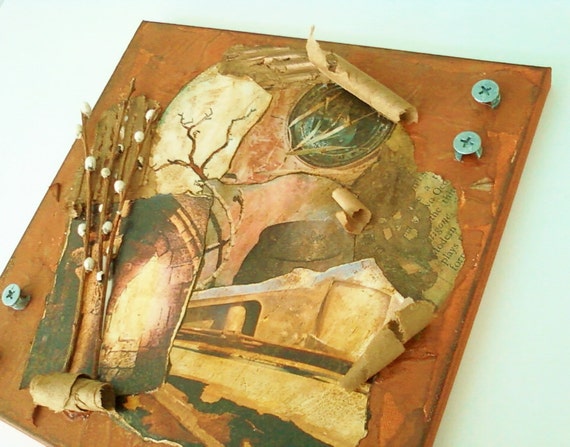 https://img1.etsystatic.com/033/0/6042216/il_570xN.648003577_8s9s.jpg


The collage above was done with
acrylic paints, Glimmer Mist, PearlEx, tulle mesh, a photograph, textured cardboard, brown paper, text clip art, tree bark, butterfly image, copper jewelry wire, heavy gel medium, & clear waterbased varnish.

About Robin
"I'm a mixed-media craft artist. I love to design and create wall hangings, quilts, altered books, collage and assemblages with lots of embellishment. I enjoy making hand-crafted gifts for family and friends, which are always appreciated.

"I take my inspiration from my surroundings, incorporating lots of flowers and natural elements in my work. I live in Croton-on-Hudson, NY.

"I majored in Fine Arts at Brooklyn College and also studied graphic design and art mosaics. Some of my work was published in the Summer 2009 and Summer 2011 issues of Somerset Studio Gallery magazine."
Thanks, Robin, for guesting here! And for using some of the spare photos I sent you in your work!
Paula Guhin, the Mixed Media Manic.